What's Happening on the Day?
When
Tuesday 31 October 2023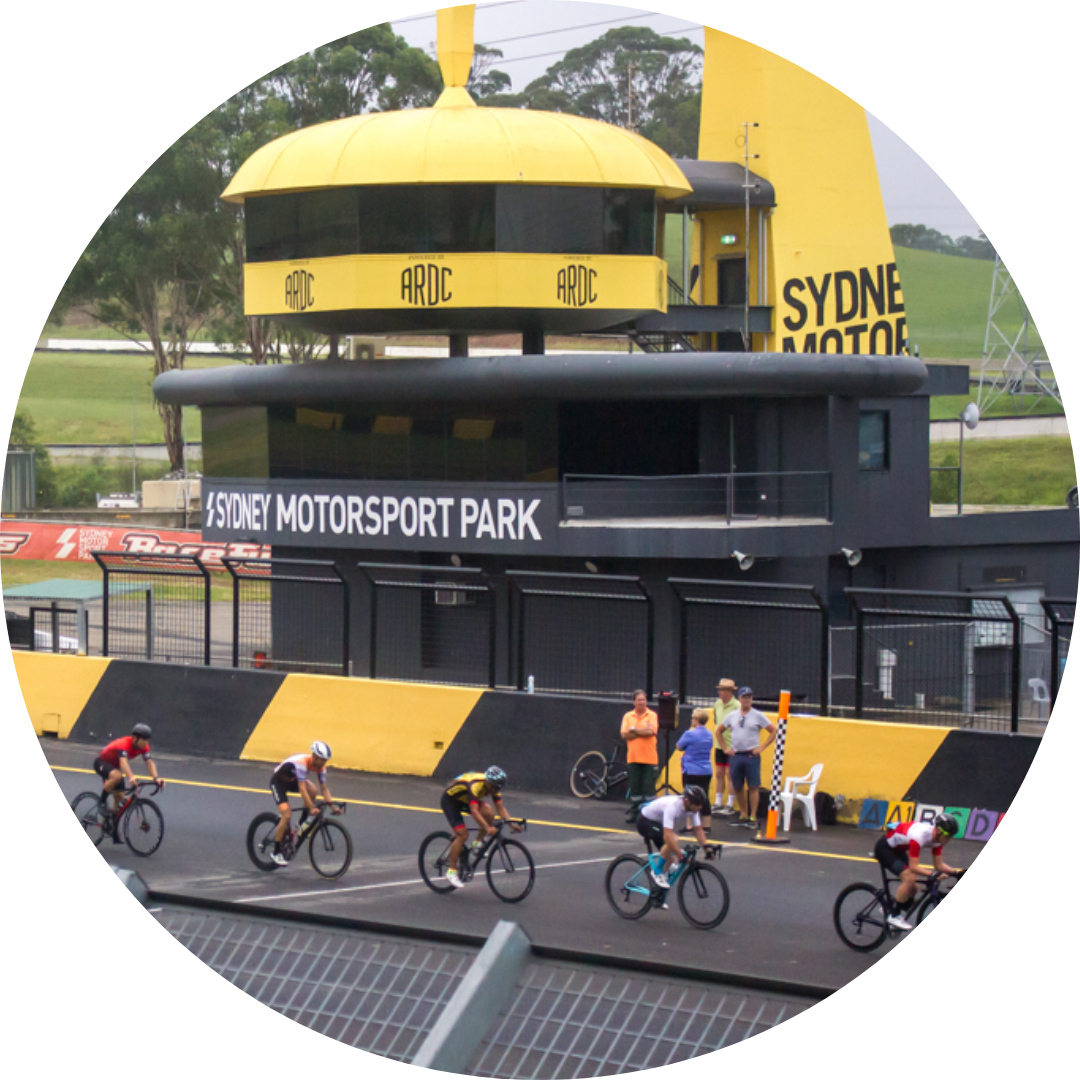 Where
Sydney Motorsport Park, Eastern Creek
Sydney Motorsport Park is 40km west of Sydney's CBD on Brabham Drive / Ferrers Road at Eastern Creek. Get directions
Who

At the Pedalthon we welcome riders from all levels of experience. Whether you are a confident cyclist or new to the sport, please come join us!

We encourage riders to participate in teams of 6 however you are welcome to take on the challenge solo if you wish.

The safety briefing before the challenge commences will ensure necessary measures being put in place to allow all riders to enjoy a safe and fun ride.
Distance
Open Challenge (3 hour challenge) - 3.93km GP Gardiner Circuit

Sprint Challenge (2 fastest lap challenge) - 2.8km GP Mt Druitt Circuit

Please visit this link for more info regarding the circuits at the Sydney Motorsport Park : https://www.sydneymotorsportpark.com.au/pages/circuits



Event program
7:30am – 8:15am: Registration & Warm Up (breakfast and coffee available)
8:35am – 8:45am: Event & Safety Briefing (highlighting the significance of keeping in mind all varieties of cycling experience out on the track and how to assess risks to avoid injury or accidents while riding with a big group)
9:00am – 12:00pm: 3 Hour Team Challenge
12:00pm – 1.00pm: Sprint Challenge
1.00pm – 2:00pm: Lunch, awards, presentation
Cost
Team registration: $300
Individual registration: $50
Community teams: Email belowthebelt@anzup.org.au to organise your registration
Referrals
Prizes will be on offer for teams who refer the highest number of additional registered teams.

Spread the word to your colleagues, family, friends or neighbours. Get them all to join us at the Sydney Pedalthon 2023.
Fundraising
Once you have registered you will have a personal and team fundriaisng page which you can log into and populate however you'd like. Your sponsors, team members and achievements will all be visible here. Direct others to your page using the URL to boost your funds.

We recommend setting a minimum target of $500 per rider. All funds raised enable vital research go directly towards the Below the Belt Research Fund
With your registration, you will enjoy:
Complimentary short sleeve, single zipper jersey which will be available to you on the day in your allocated garage.

Regular training tips in the lead up from our ambassadors and cycling event management team.

Organised pit lane set-up, rider support and food and drink all throughout the day.

Massage therapists will be available to take care of tired riders and sore muscles.

A bike mechanic will be on hand to take care of injured bikes.

Complimentary breakfast (available from 7am).

Post-challenge formalities for the awards presentation including BBQ lunch and beverages
3 Hour Team Challenge
Teams of up to 6 will be challenged to ride as many laps of the course as possible in 3 hours. Riders can alternate via the pit lane at their own discretion. So, if you like, you can take a strategic racing approach, or just change and rest whenever you wish - but the more riders on the track, the more laps you achieve.
The first 3 hours is open to all riders and is simply the most laps ridden by individual and team staged on the 3.93 K GP Gardiner Circuit. This challenge also includes the fastest laps male and female as well as the king and queen of the mountain challenges.
Sprint Challenge

The sprint challenge at the end of the day is open to 2 riders per team and set on the GP Mt Druitt 2.8 K circuit. This challenge is untimed and on completion of the 3-hour team and individual challenge above.

Do you have that last little bit of energy to burn? Give it one last go and see what you're capable of.
Challenge Winners & Prizes
Prizes will be awarded to the winners of the several challenges we have lined up for the day.


There is an abundance of great prizes and medals available for those that put in the hard work, whether that be physcially out on the track or behind the scenes with fundraising.

Will you or your team be the ones to claim a prize? Prove that you are worthy and you shall be rewarded!
AUS Cycling have sanctioned this event as a Mass Participation Event and all riders must have Aus Cycling Membership to ride in this event
For those who do not have cycling insurance, ANZUP will organise a day pass for you.
While this is a closed circuit event, riders should remain alert at all times when on the course and ride in a safe manner. Be aware of the riders around you and consider the possibility that they may not be as experienced as you are.
Note: these rules are subject to change, so please come back to the site before the event to see the latest race rules.