When
Sunday 26 March 2023
Who
Teams of up to 4 riders
Distance
Most laps completed in 3 hours
Event program
Registration: From 7:30am
Breakfast and coffee served: 7.00am
Safety briefing: 8.15am
Open race: 8.30am-11.30am
Fastest 2 lap challenge: 11.45am – 12:15pm
Awards presentation and lunch: 12.30pm – 1.30pm (lunch available from 12:15)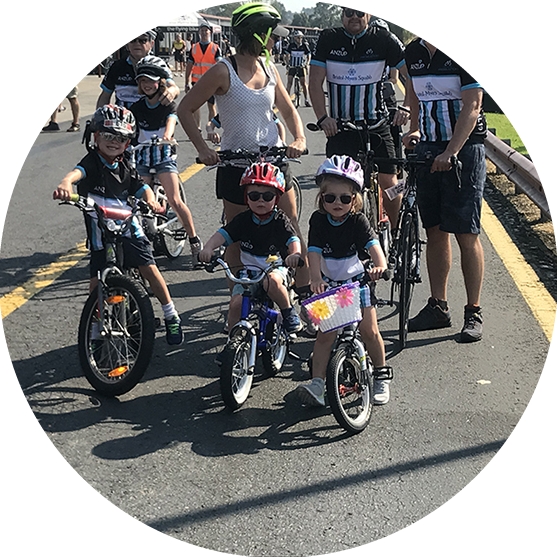 Cost
Team registration: $200
Individual registration: $50

Family registration (2 adults and 2 children): $150
Community teams: Email belowthebelt@anzup.org.au to organise your registration
Referrals
Prizes will be on offer for teams who refer the highest number of additional registered teams.
Fundraising
Try and set a goal for your fundraising! We recommend $500 for individual adult riders and $100 for the kids.
All funds go towards the Below the Belt Research Fund.
With your registration, you will enjoy:
Complimentary short sleeve, single zipper racing jersey
Organised pit lane set-up, rider support and food and drink
Massage therapists will be available to take care of tired riders
A bike mechanic will be on hand to take care of injured bikes
Complimentary breakfast (prior to 9:00am)
Post-race function including BBQ lunch and beverages
3 Hour Lap Challenge
Teams of up to 4 will be challenged to ride as many laps of the course as possible in 3 hours. Riders can alternate via the pit lane at their own discretion. So, if you like, you can take a strategic racing approach, or just change and rest whenever you wish - but the more riders on the track, the more laps you achieve.
The first 3 hours is open to all riders and is simply the most laps ridden by individual and team stage on the circuit.
Sprint Challenge
Fastest 2 laps completed by an individual rider.
First single rider across the line claims the win!
Prizes
Prizes will be awarded to the winners of each category who have the overall highest number of laps completed.
Other prizes are also on offer for the winners of the challenges.
Fastest lap by an individual (time taken during the 3-hour event)
Fastest lap by a team (time taken during the 3-hour event)
Fastest two laps by an individual. Two riders per team. First across the line. (Sprint Challenge)
Categories Throughout the Day
Best dressed - individual
Best dressed - team
Fastest lap by individual male (open race)
Fastest lap by individual female (open race)
Most number of laps (open race) - individual
Most number of laps (family) by individual
Sprint challenge (open race)
Highest fundraiser - team
Highest fundraiser - individual
Most number of laps (family) by team Below the Belt Champions
Most number of laps (open race) by team Below the Belt Champions
AUS Cycling have sanctioned this event and all riders must have insurance for the day.
For those who do not have cycling insurance, ANZUP will organise a day pass for you.
While this is a closed circuit event, riders should remain alert at all times when on the course and ride in a safe manner.
Note: these rules are subject to change, so please come back to the site before the event to see the latest race rules.